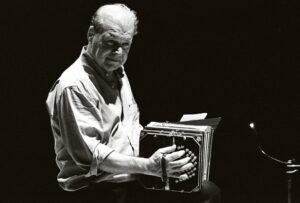 Músico argentino, nacido el 16 de marzo de l943 en la Ciudad de Cañada de Gómez, Santa Fe, Argentina. Formación musical integral; estudió bandoneón con los maestros Tito Aparicio y José Bustamante, y armoñía, contrapunto y composición con el maestro Titti Rossi.
Integró las grandes orquestas de tango de argentina, citando entre ellas José Basso, Francisco Rotundo, Héctor Varela, Osvaldo Piro, Alberto Di Paulo, Forever Tango, y los grupos musicales Reynaldo Nichelle, Osvaldo Requena, Osvaldo Berlinghieri, Quinteto de Reyes y Café de Los Maestros.
Como interprete solista actuó en salas de Buenos Aires, como el Salón Dorado del Teatro Colón, Teatro San Martín, Facultad de Belgrano, Radio Nacional, Escuela Superior de Música y Museo Castagnino de la Ciudad de Rosario.
Fue fundador con Lisandro Adrover del ¨Noñeto Ensamble Porteño¨; dúo de bandoneón y guitarra ¨Varvello- Labanca¨ y de ¨Ensamble Trio¨, grabando y actuando en su país y en el exterior con todos estos conjuntos.
Arregló obras de tango para orquestas de Cámara; transcribió y digitó gran cantidad de obras musicales de autores clásicos para bandoneón.
En el transcurso del año 2002 grabó como solista, para la companía Testigo de New York, el CD ¨Bandoneón A Magic Instrument¨, con obras clásicas de Chopin, Debussy, Bach, Schubert, Brahms y algunos temas de tango.
En el año 2003, la compañía Zaf Records de Argentina, edita ¨ Tangos de Vanguardia¨, CD de ¨Ensamble Trio¨, con sus arreglos y dirección.

Actuó también como Director Musical del espectáculo ¨Tango Dreams¨, en presentaciones con las orquestas sinfónicas de Alburquerque, Nuevo Mexico,
y Long Beach, California, Estados Unidos; como así también en la ciudad de
Tokio, Japón en los años 2003 y 2004.
Sus obras son editadas por ¨Lagos SRL¨ de su país y  ¨Tonos Musikverlags¨ de Alemania.
En 2004 compone ¨Concierto para Bandoneón y Orquesta Sinfónica¨ y ¨Encuentro¨, Música de Cámara para Bandoneón y Cuarteto de Cuerdas;  en 2005 viaja a Europa dirigiendo el Sexteto para el espectáculo ¨Tango Seducción¨;  y a Canadá en los años 2007 y 2008, en donde grabo el CD ¨Corazon de Montreal . En 2008 preséntase como bandoneon Solista  en la Universidad Estatal de Chicago y con la Orquesta Sinfónica de esta misma Casa de Estudios, en el Centro Cultural de esa ciudad (USA).
En 2009-2010 efectuó presentaciones integrando la orquesta Café de Los Maestros,  en el país y en paises de Europa como Francia , Inglaterra , Grecia, Belgica y en paises de Asia Como Singapur, Corea, China. 
Durante 2011 realizo presentaciones en Canada y Brasil.
En  el año 2012 prepara Y  realiza la grabacion  de CONCERTO PARA BANDONEON , strings, piano , harp, timpani y percusión en tres movimientos y algunas obras de Frédéric Chopin, Johann Sebastian Bach, Claude Debussy y tangos de Agustín Bardi, Eduardo Rovira, Astor Piazzolla.
Argentinian musician born in 1943 in Cañada de Gomez, province of Santa Fe, Argentina. He studied the bandoneon with Tito Aparicio, Jose Bustamante and studied harmony, counterpoint and composition with Titi Rossi.
He joined several famous orchestras including the Jose Basso, Osvaldo Berlinghieri, Alberto Di Paulo, Osvaldo Piro, Osvaldo Requena, Francisco Rotundo and Hector Varela tango orchestras, Forever Tango, los grupos musicales Reynaldo Nichelle, Quinteto de Reyes and Café de Los Maestros.
He interpreted as a soloist and performed in Buenos Aires at the Salòn Dorado of the Colon Theater, Teatro San Martin, Faculty of Belgrano, Radio Nacional, Escuela Superior de Mùsica and at the museum Castagnino the city of Rosario.
He is extremely active as a composer and arranged works for tango chamber orchestras, transcribed many musical works of classical authors for bandoneon.
He created together with the bandoneonist Lisandro Adrover the Noneto Ensamble Porteño Trio, played duos with guitarist Jorge Labanca. These groups mainly used Varvello's own arrangements and played and recorded many of his works.
In 2002, the famous company TESTIGO published "A magic instrument", where this exceptional artist, brings awareness of the uniqueness of this incredible instrument in classical music, a unique feat of this kind, he played Bach, Schubert, Chopin, Brahms, Debussy and also tango music.
In 2003 the company Zaf records from Argentina, published "Tangos de Vanguardia" Trio Ensemble, under his direction and arrangements.
He acted as musical director of the show "Tango Dreams", in appearances with the symphony orchestras of Albuquerque, New Mexico and Long Beach, California, USA, as well in the city of Tokyo, Japan in 2003 and 2004.
His works are published by Editorial Lagos S.R.L./ Warner Chappell in Argentina, and by Tonos Musikverlag GmbH in Germany.
In 2004, he composed "Concerto for Bandoneon and Symphony Orchestra " and "Encuentro" chamber music for Bandoneon and String Quartet. Traveled to Europe in 2005 directing the show "Tango Seduction" with a sextet and Canada in 2007 and 2008, where he recorded the CD "Heart of Montreal". In 2008, performed as bandoneon soloist at the State University of Chicago Symphony Orchestra (USA).
In 2009-2010 he made ​​presentations integrating Café the Los Maestros Orchestra in Argentina and in European countries such as France, England, Greece. Belgium and in Asian countries like Singapore, Korea, China.
In 2011 conducted presentations Canada and Brazil.
In 2012, released a new cd with the famous company TESTIGO, "Concerto for bandoneon", this album includes a concerto for bandoneon, strings, piano, harp, timpani, percussion, in three movements and some works of Frédéric Chopin, Johann Sebastian Bach, Claude Debussy and tangos of Agustín Bardi, Eduardo Rovira, Astor Piazzolla.